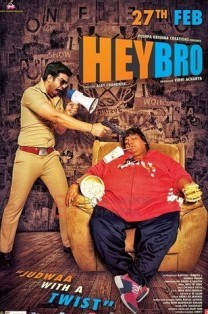 Music Review Analysis of Himesh Reshammiya's song Bulbul from Hey Bro. Music by Nitz N Sony.
Himesh enjoys his stint behind the mic and sings with carefree jovial bindaas style.
His opening mukhda line from 0:22 to 0:29 is sung in midde octave.
Himesh's line, NAACH (off-da-hook arrogant feel emphasis) at 0:22 & 0:37, PAISA (hilarious pronounciation) at 0:24
Himesh's line, KHAALI PHUKAT BAITHI GI TOH KAISA MILEGA from 0:26 to 0:29 is as if he was smiling behind the mike whilst singing it.
Himesh shifts onto his Sufi Rwak antics with off-da-hook full tu high pitched vocals on lines AISE SHARMAYE GI TOH DIL YEH JALEGA, YUN FOOTAGE KHAYEGI TOH PHIR NA CHALEGA from 0:51 to 0:58, with emphasis on lines AISE SHARMAYEGI (off-da-hook fulltu high pitch) and KHAYEGI (off-da-hook fulltu high pitch).
Himesh's catchy middle octave lines KUCH TOH IRADA KAR, NAKHRE NA ZYADA KAR, MOOD MEIN AB AAJA TERE WAITING HAI FANS from 0:57 to 1:06 & 4:28 to 4:35 are his best lines in the song.
1st & 2nd stanza
Shreya sings with mischievious flair.
Her naughty alaap from 1:51 to 1:55 & seductive feel vocals from 3:20 to 3:24 are nice.
Her lines from 1:55 to 2:14 & 3:23 to 3:43 are likeable.
Off-da-hook catchy chorus alaap OO OO OO from 1:59 to 2:01, 2:05 to 2:06, 3:27 to 3:29 & 3:33 to 3:35 along with off-da-hook underlying heavy traditional drum skips get the listeners into a foot tapping groove.
Himesh lines from 2:14 to 2:22 & 3:44 to 3:51 are sung with jovial mischievious middle octave vocals, in a playful tapori mode.
Shreya's line, CHAAAANCE (off-da-hook prolonged emphasis singing) from 2:36 to 2:37
The modulation done on Shreya's vocals from 2:23 to 2:37 & 3:51 to 4:06 has an overall nice effect.
The jugalbandi of drums from 3:14 to 3:20 is nice.
The beat skid effect in sync with vocals DANCE DANCE DANCE in unplugged mode from 4:51 to 4:52 is off-da-hook.
The ending female line YA WHATEVA is said with attitude.
Conclusion
The music arrangement of the song is raw traditional rustic interior tapori type, on the lines of Tattad Tattad from Ram Leela. The tune has a deja-vu feel but is quite hummable and gets onto the lips, along with its peppy upbeat mood makes it enjoyable. It is after quite a hiatus that the duet of Himesh and Shreya Goshal is heard together, as Himesh has recently preferred other female playback singers in his own songs and he himself sings relatively limited songs nowadays. Himesh sings selectively for outside composers, and both his outings so far i.e. Photocopy and Bulbul have been bindaas jovial carefree masti filled singing styled songs.
Himesh's best lines in the song are his catchy middle octave lines KUCH TOH IRADA KAR, NAKHRE NA ZYADA KAR, MOOD MEIN AB AAJA TERE WAITING HAI FANS from 0:57 to 1:06 & 4:28 to 4:35